Small quantities of wine are produced from grapes grown in our vineyards. Most of the vines are 30+ years old. All are hand-pruned and the grapes hand-picked. Table and dessert wines are made by Brian Sinclair at Brindabella Hills Winery, one kilometre down the road, and our sparkling wines by Greg Gallagher up the road to Murrumbateman.
The wines are well made, reasonably priced, and have very low carbon mileage. They express the place and the seasons. They are true locals, available at the cellar door, through this site, and at a number of restaurants and retail outlets around Canberra.
Tastings
Tastings at our cellar door are free of charge, except for larger groups. For tasting groups of more than 10, there is a $5 a person tasting fee, refundable on purchase of wine.
We recommend that patrons for wine tasting only (excluding dining) make a booking and preferably come before 12 or after 3 when there are fewer diners in our space and you can taste with greater comfort.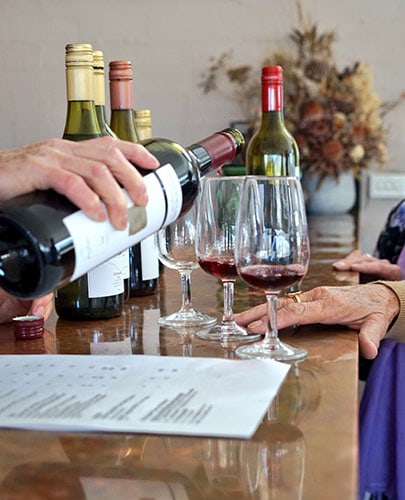 More wines (varieties, vintages) are available if you visit our cellar door, including some great specials.